Presented by the Pacific Beach Coalition
April 1, 2021 – May 22, 2021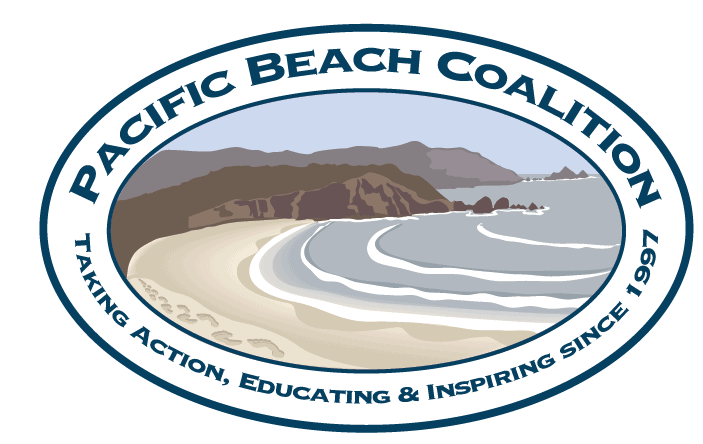 Albatross: Life on the Wind and Sea is a traveling exhibition from the Seymour Marine Discovery Center, Caren Loebel-Fried, and Exhibit Envoy, and is based on the book "A Perfect Day for an Albatross," published by Cornell Lab Publishing Group. This online exhibition is adapted from the physical touring exhibition. All artwork and photos © Caren Loebel-Fried, except where noted.

Albatrosses survive and fly with wind, spending 95% of their lives over the open ocean. They flap a little, but mostly soar through the air, using the wind to sail over the ocean for long periods of time. They only return to land to find and meet their life mates, lay their egg, and raise their young. When it's time to nest, both parents share responsibilities for their egg. While one albatross incubates the egg for up to three weeks, the other travels hundreds or thousands of miles to find food in colder waters. When the traveling bird returns, the parents trade roles.
Over 70% of the world's Laysan albatrosses – nearly a million birds – raise their young on the small Northwestern Hawaiian islands of Midway Atoll (Papahānaumokuākea in Hawaiian).
Although it wasn't always this way, people now need special permission to go to Midway. Author and artist Caren Loebel-Fried is one of the lucky humans who gets to spend time there! On the islands, Caren has worked amongst hundreds of thousands of nesting Laysan, Black-footed, and Short-tailed Albatrosses, counting nests with a census team and researching for her artwork for the U.S. Fish and Wildlife Service.
---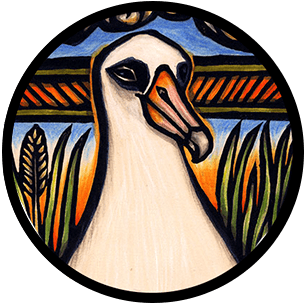 On Midway, Caren interacted with individual albatrosses. This led her to imagine the story of a particular Laysan Albatross named Mālie (pronounced MAH-lee-eh, and meaning "calm" in Hawaiian). Look for Mālie throughout this exhibit, and listen in as she tells stories about her life!
---
North Pacific Species of Albatross
---
What does an albatross sound like?
Caren Loebel-Fried is an author and artist from Volcano, Hawai'i who lives part time in Half Moon Bay, California.
Caren creates award-winning storybooks about nature and culture, and makes iconic, educational art for government agencies and conservation organizations. Birds, conservation, and the natural world are the foundation for her work. She uses the power of pictures and stories to open up the world of wildlife for people young and old.
---
Creating Artwork through Block Printing
Caren's art is created with hand-colored block prints, an ancient technique she learned from her mother. The process involves developing a drawing and then transferring it to a block. Caren carves the block, rolls black ink on it, and then carefully lays white paper on the inked block. She then "pulls" the print off of the block, lets it dry, and hand-colors the black and white art with pencils and watercolor inks.
She incorporates information into the art, integrating clues about the environment and lifestyle of her subject. With her art and stories, Caren aims to bring people, especially children, closer to the natural world with the hope that they will want to help care for it.
---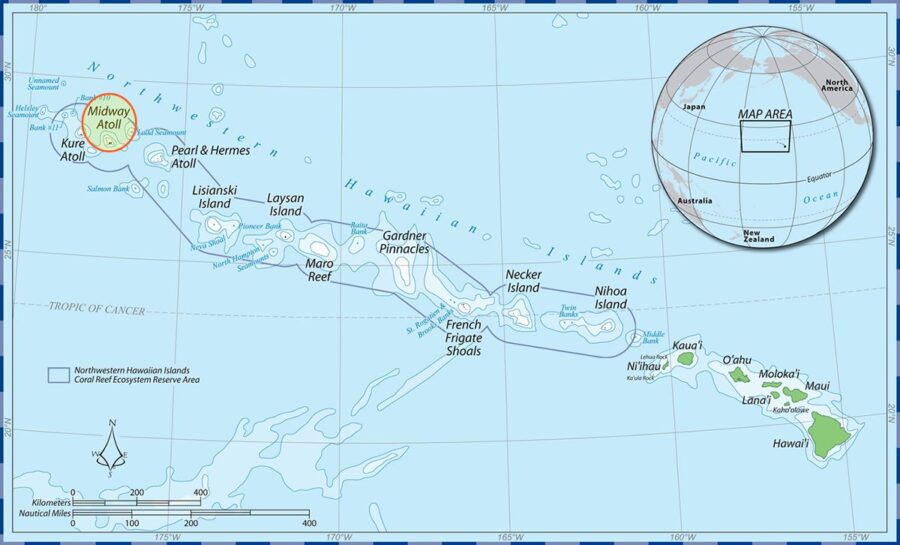 Albatrosses spend 95% of their lives over the open ocean. But, albatrosses have to return to land to nest. Midway Atoll is where over 70% of the world's Laysan albatrosses – nearly a million birds – raise their young.
Midway Atoll is a set of three small, sandy coral islands in the Hawaiian Archipelago far away from most predators. Midway is about 3,200 miles from the coast of California and halfway to Japan. The Hawaiian name for Midway is Pihemanu, which means "loud din of birds."
---
Take a virtual tour of Midway Atoll!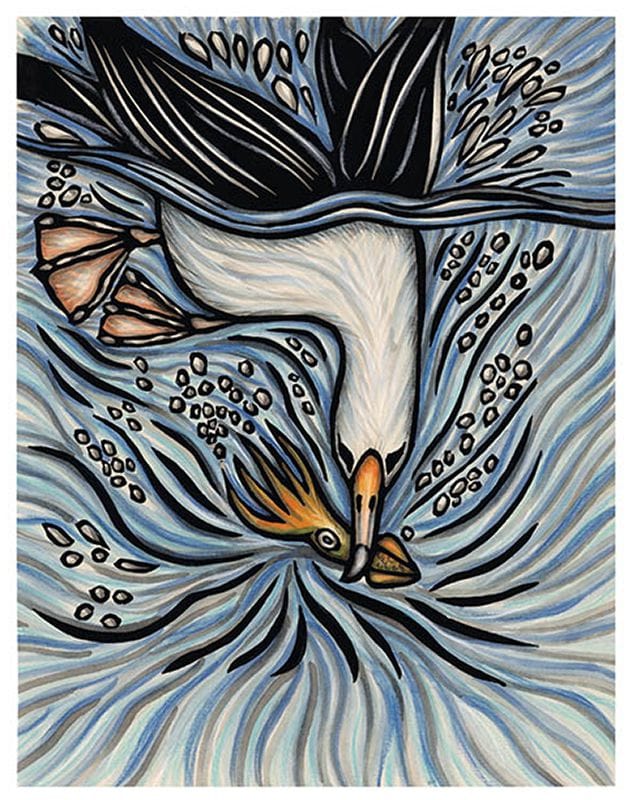 Ninety-nine percent of Laysan Albatrosses nest on remote islands in the Pacific Ocean, and mostly on the Hawaiian Islands. They soar great distances to hunt for squid and fish eggs, which are pushed up to the ocean's surface by cooler waters where they meet warm waters.
While floating on the surface of the ocean, albatrosses catch squid by grabbing it with their sharp hooked beak. Though albatrosses like to eat squid best, they also eat other creatures like crustaceans, flying fish eggs, and lanternfish. Some albatrosses have a symbiotic relationship with sunfish: a relationship where both the fish and the albatross benefit. Albatrosses have been seen swooping down to pull parasitic crustaceans off of huge sunfish!
---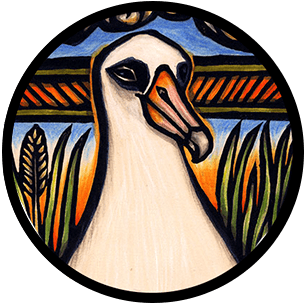 The air is getting cooler, and I feel the chilly ocean spray. I am near a place where warmer waters meet colder waters. At this place, I will look for food. Squid, my favorite, live deep in the ocean, but at night they rise to the surface. I can smell them – they are near! I land on the water, and with my sharp beak, I grab and swallow one slippery squid, then another. – Mālie
When young albatrosses fledge (develop wing feathers large enough for flight), they soar over the Pacific Ocean for four years or more. Then, they return to the island of their birth to meet other albatrosses and practice their dance. Dancing and vocalizations are very important to these birds; albatrosses choose mates for life by dancing together, though it takes a few years of practice to learn how to dance correctly and find a mate.
After they mate, albatrosses still spend most of their lives alone over the ocean. But, they return to land in late fall every year, arriving at the same place as their mate.
---
Two Laysan Albatrosses practice a courtship ritual (dancing) with natural sounds, including calls and bill-clacking.
---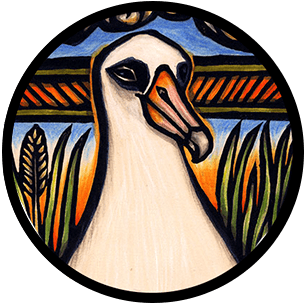 When I returned to the island for the first time, there were albatrosses all around, some sitting on nests, some dancing, wailing, grunting, and bill-clacking. I had seen dancing when I was a youngster, so I joined a group of other young albatrosses. Together we stumbled through the movements and sounds. It would take more practice to do all the right moves. – Mālie
Scroll over to see more images. Click on each artwork to enlarge it.
Albatrosses return to the island where they were born to meet other albatrosses. They often choose a nest site very close to their natal (birth) nest.
Both parents share in the care of their egg and chick. As one albatross incubates the egg (keeps the egg warm so it can develop and hatch), the other flies far out to sea for food. In between, they also preen (straighten and clean their feathers), talk to their egg, and cuddle with their mate.
Even when it's stormy, or if a predator is nearby, albatrosses stay on their nests.
---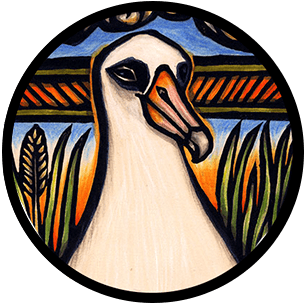 I move our egg gently with my beak and then settle back down, wriggling my body to nestle the egg beneath my warm belly. I reach for a beakful of damp sand and press it in along the rim of the nest, and then tuck in a few dry strands from a nearby clump of bunchgrass. I am dozing when I feel the air go "swoosh" right next to me. I open my eyes to see my mate, Kumukahi! He leans towards me and we touch bills. He preens the feathers on my head. I tilt my head so he can scratch the itchy places. He sits next to me, very close. It is his turn to care for our egg! – Mālie
You can help protect albatrosses and other wild creatures! Every person can make a difference.
Reuse or recycle plastics to keep them out of the ocean, and avoid using single-use plastics.
Instead of accepting plastic bags from stores, bring and use your own bags.
Use your own refillable water bottle.
Bring your own "to-go" containers to restaurants and stores.
Use your own forks, knives, and spoons instead of plastic throw-aways.
Try not to buy items with excessive or unnecessary plastic packaging.
You can even start or join a campaign that asks individual companies to reduce their use of unnecessary plastic packaging.
Save energy and help keep our planet from getting warmer.
Turn off the lights, TV, and computer when you're not using them.
When you can, walk, ride your bike, or take public transportation instead of riding in the car.
If you're shopping at the grocery store, look for safe, healthy seafood.
Albatrosses, whales, dolphins, and turtles sometimes get caught in fishing nets or lines by mistake. Check the label for fish that have been caught instead with "pole-and-line" or "trolled."
---
By working to reduce your environmental impact, you can help wildlife like Māile and the other animals that live on Midway Atoll, as well as creatures everywhere.
Continue the fun at home! Download and print a quick scavenger hunt, coloring pages, and even more educational activities using the links below.
Scavenger Hunt
Can you find the Hawaiian plants and animals hidden in the artwork in the exhibit? First, download and print this scavenger hunt. Then, look back through this exhibit to find all of the Hawaiian flowers, grasses, and animals that the artist has included in her art.
---
Coloring Pages
Download coloring pages featuring artwork by Caren Loebel-Fried. Share your finished creations with the museum, or on social media!
---
Educational Materials
Explore the world of birds with these kids' learning guides from Cornell Lab of Ornithology! Use your senses to observe and learn about local birds through the BirdSleuth Explorer's Guidebook. Or, dive deeper into Hawai'i and the lives of Laysan Albatrosses with an educational guide for "A Perfect Day for an Albatross," the book upon which this exhibit is based. What more can you discover?
Volunteer with the Pacific Beach Coalition and make a difference!
---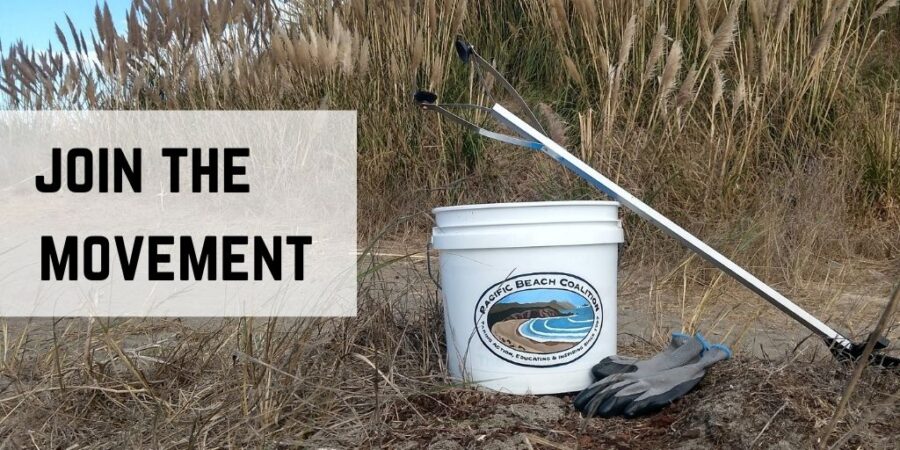 Street to Beach Cleanups
Join the Pacific Beach Coalition's "Street to Beach Cleanups" program and become a citizen scientist. Learn how on the PBC's website [external link].
You don't need to go far to have a successful and ultra rewarding cleanup! If your county is still under Shelter-in-Place measures, just go around your block. Look for tiny bits of litter such as food wrappers, cigarette butts, bottle caps, etc. If your county is now adopting more relaxed rules, you can go to your favorite beach, park, neighborhood, or trails, and pick up litter there.
---
Get Community Service Hours
Although the Pacific Beach Coalition's monthly cleanups are on hold, students and adults can still get in community service hours using the Clean Swell app! Learn how to get your community service hours verified by the PBC by on their website [external link]. Don't forget to sign the online waiver just like you would for in-person cleanups!
---
Make a Donation
Support the Pacific Beach Coalition's educational programs by making a donation! Visit the PBC's donation page to make a gift [external link].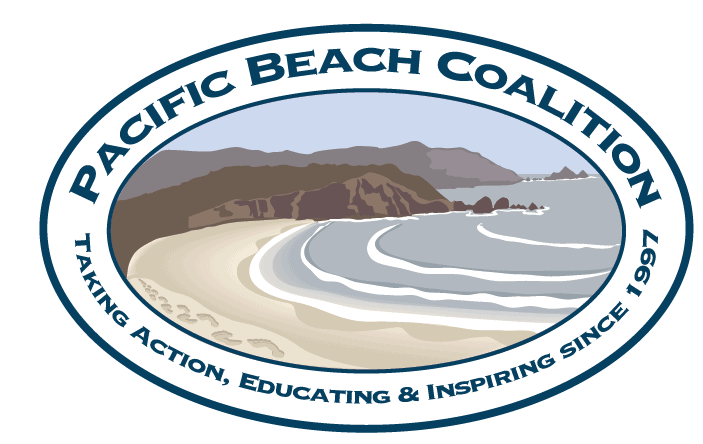 Thank you for viewing Albatross: Life on the Wind and Sea as hosted by the Pacific Beach Coalition!
The Pacific Beach Coalition is dedicated to preserving the ocean, coastal habitat and wildlife, and ending litter, through advocacy, education, community building, and citizen action.
To find out more about the Pacific Beach Coalition, visit pacificbeachcoalition.org today.
Thank you to our generous Earth Month Sponsors:

Albatross: Life on the Wind and Sea is a traveling exhibition from the Seymour Marine Discovery Center, Caren Loebel-Fried, and Exhibit Envoy, and is based on the book "A Perfect Day for an Albatross," published by Cornell Lab Publishing Group. This online exhibition is adapted from the physical touring exhibition. All artwork and photos © Caren Loebel-Fried, except where noted.