Presented by the Shasta Historical Society
June 10, 2021 – September 2, 2021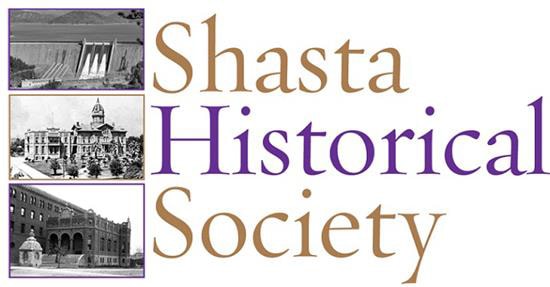 Wherever There's a Fight is an exhibition curated by Elaine Elinson and Stan Yogi and toured by Exhibit Envoy.
This online exhibition is adapted from the physical touring exhibition.
Leer la exhibición en español aqui.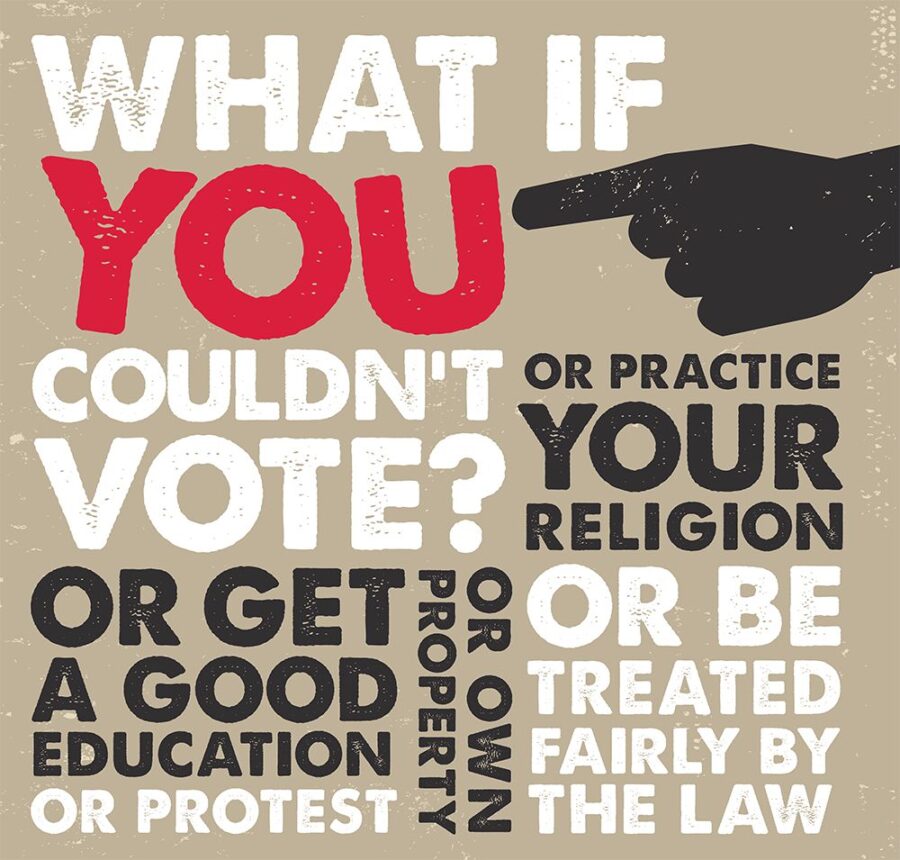 CIVIL LIBERTIES, our right to equality under the law and our right to freedom from government intrusion, are essential to democracy. The U.S. and state constitutions are the foundations of our democracy – and the Bill of Rights defines our individual rights. But they would just be lofty ideals were it not for people who have fought to make our rights a reality in daily life.
THIS EXHIBIT tells the stories of people throughout California history who fought violations of their civil liberties and confronted the prejudices and political winds of the times. Their stories remind us that each generation has its own fights to keep our rights meaningful.
---
I know that our liberties were not won without suffering, and may be lost again through our cowardice.

Upton Sinclair
---
Wherever There's a Fight is part of California Humanities' Searching for Democracy, a thematic program designed to examine the meaning of democracy today. The exhibition is based on the Heyday Books publication Wherever There's a Fight: How Runaway Slaves, Suffragists, Immigrants, Strikers, and Poets Shaped Civil Liberties in California [external link] by Elaine Elinson and Stan Yogi, curated by Elinson and Yogi, translated into Spanish by Florencia Milito, and presented by Exhibit Envoy.
Where Do Our Rights Come From?
Our rights and liberties are defined and protected in several different ways.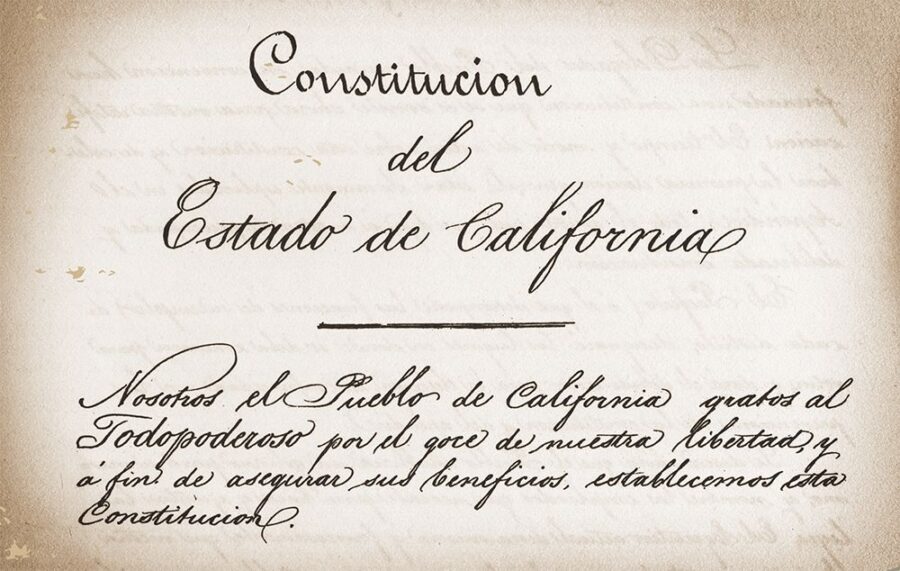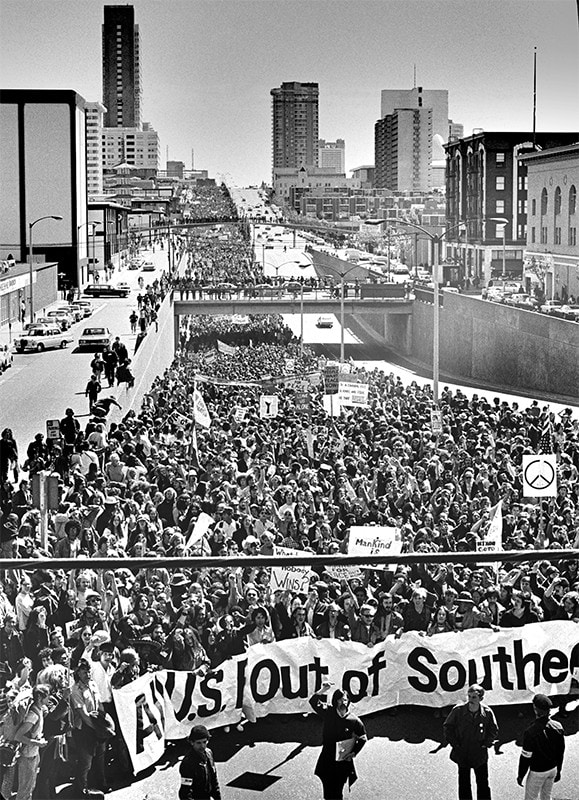 Constitutions:
The United States Constitution and state constitutions affirm rights and freedoms that the government cannot violate.
Legislature/Courts:
Congress and state legislatures, representing popular will, pass laws that grant and sometimes limit rights. Courts ensure that laws, whether approved by legislators or popular vote, do not infringe on fundamental rights outlined in state and federal constitutions.
Initiatives:
Since 1911, Californians have had the right to create laws and amend the state constitution through a popular vote. Initiatives sometimes expand rights, as did the successful proposition to grant women the right to vote. But many initiatives have restricted or taken away rights of certain groups.
Advocacy:
Individuals and groups can advocate for the legislature and Congress to change or create laws, bring lawsuits to challenge policies that are unfair, and organize social movements to bring public attention to injustices.

All people are by nature free and independent and have inalienable rights.

California Constitution
Some people have been denied citizenship rights based on their ethnicity.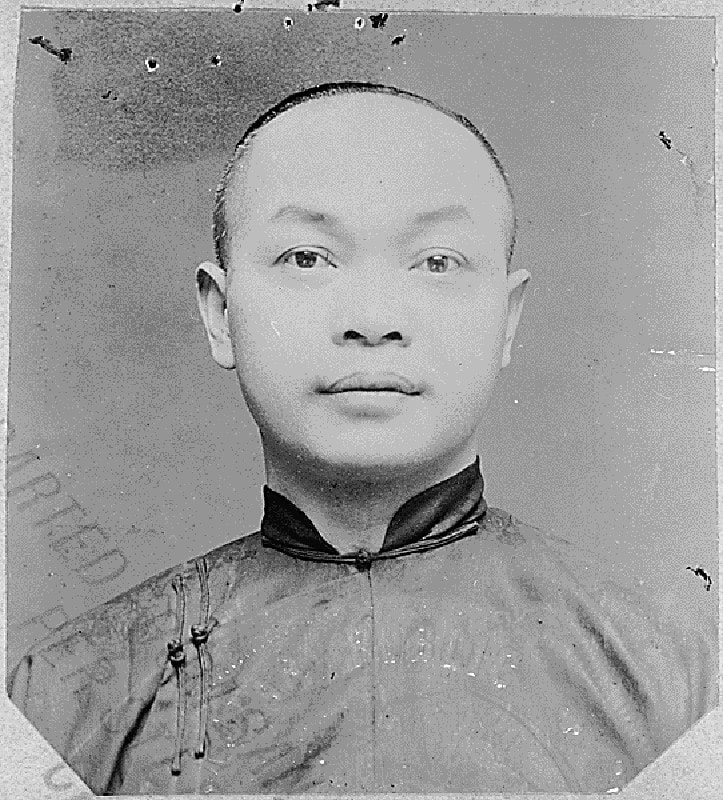 When 22-year-old Wong Kim Ark returned to his home town of San Francisco after a visit to China, a customs official refused to let him back into the country. Even though Wong was born in California, the official argued he was not a citizen – because his parents were Chinese immigrants. Wong sued and won. The U.S. Supreme Court ruled in 1898 that the 14th Amendment guarantees U.S. citizenship to everyone born in this country.

Wong Kim Ark was required to carry an identity document verifying his birth in San Francisco. Courtesy National Archives (296479).

---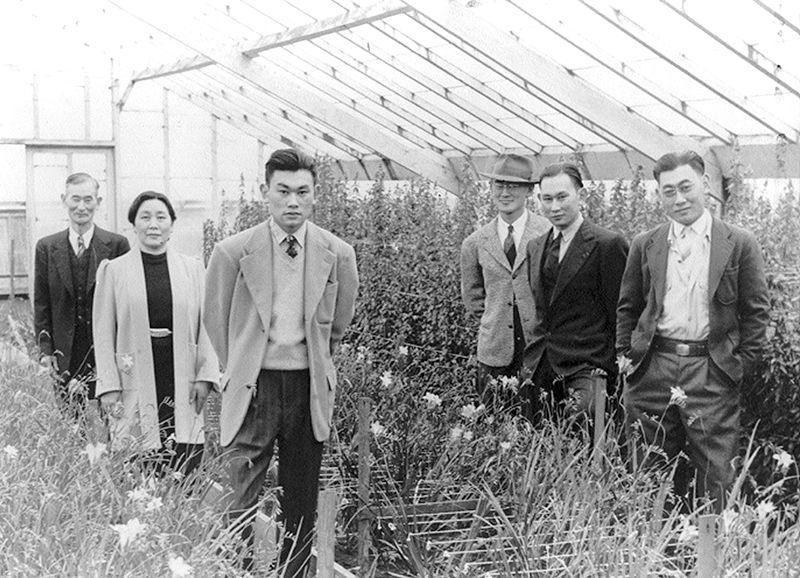 Citizenship mattered little during World War II when the government imprisoned 120,000 Japanese Americans living on the West Coast. Police arrested Fred Korematsu for refusing to leave the area. He challenged his exclusion, but the U.S. Supreme Court ruled against him. Nearly 40 years later, a judge overturned Korematsu's conviction because of freshly uncovered evidence that the government deliberately misled the court about Japanese American disloyalty.

Fred Korematsu (third from left) was one of a few people who challenged the government incarceration of Japanese Americans during World War II. Courtesy of Karen Korematsu and the Korematsu Institute.

In those days, if you're an Asian, people thought 'You don't belong in this country. You're not an American'. And I thought that was wrong.

Fred Korematsu
California joined the Union as a free state, but slavery was still allowed.
An 1850 law permitted judges to declare an unemployed Indian a "vagrant" to be sold as an indentured servant to the highest bidder. Native American children could be indentured until adulthood. Many were kidnapped and sold into such slavery. The state legislature repealed the law in 1863, prompted by President Lincoln's Emancipation Proclamation.
Before the Civil War, slave owners were allowed to keep enslaved persons in California if they were just passing through the state. Others openly defied California law and kept enslaved persons. Bridget "Biddy" Mason was an enslaved woman brought to California in 1851. When her owner decided to leave for Texas, African Americans in Los Angeles organized to free Mason. In 1856, a judge granted Mason's freedom and ruled that her owner had given up the right to own slaves upon entering California.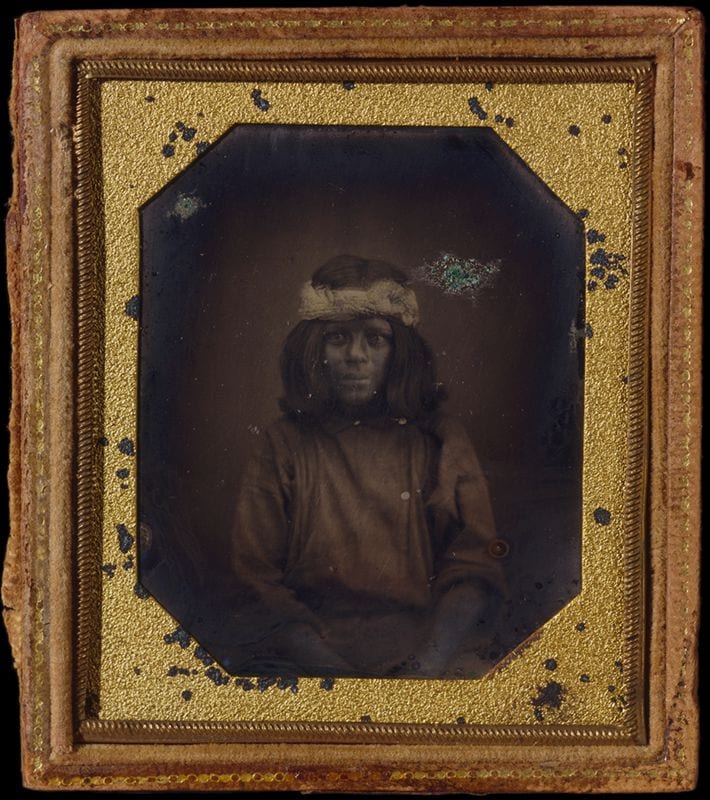 Ramon Briones, Mesa, Quiera and Beryesa of Napa County, are in the habit of kidnapping Indians in the mountains near Clear Lake, and in their capture several have been murdered in cold blood. There have been Indians to the number of 136 thus captured – and held here in servitude adverse to their will.

Contra Costa County District Attorney, 1853
People fought hard for the right to vote, but some citizens are still denied that right.
The shop girls who gathered for lunch at the Votes for Women Club near San Francisco's Union Square in 1910 probably never imagined that a century later their state would be represented by two women senators. For years, women were denied the vote. Male legislators mocked their demands for suffrage. Undaunted, they walked precincts, organized rallies, even started their own printing press. In 1911, California women won the right to vote almost a decade before the Nineteenth Amendment was passed and granted voting rights to women nationwide.
Today, every U.S. citizen who is over 18 has the right to vote. Federal law requires that ballots be available in many languages. But some voters who request bilingual ballots have been harassed and accused of voter fraud. People in prison or on parole cannot vote — disenfranchisement laws prevent them from having a voice in the political process.
Give us the Ballot, with it comes the power / to right old wrongs, then consecrate this hour.

Women's Cooperative Printing Union
---
Laws restricting property rights reflected prejudices.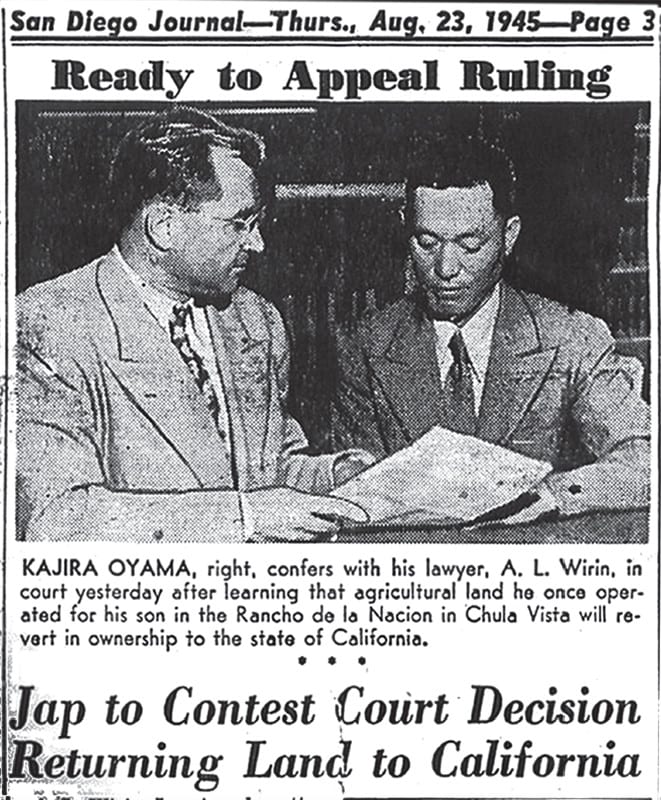 In 1934, Kajiro Oyama, a Japanese immigrant, or Issei, purchased some Chula Vista land in the name of his American citizen child, six-year-old Fred. The state prosecuted the Oyamas for violating the Alien Land Law, which barred Issei from owning and leasing land. In 1948, the U.S. Supreme Court ruled that Issei could buy land for their citizen children. Thereafter, the state supreme court invalidated the remaining part of the law preventing Issei from owning land in their own names.

Issei, like Kajiro Oyama, were not allowed to become citizens at the time of the Alien Land Law. Courtesy of the ACLU of San Diego and Imperial County.
---
I'm an American, and I haven't paid second-class taxes. And during my 11 ½ years in the army I didn't fight second-class wars. All I want is to be judged by merit.

Seaborn Burks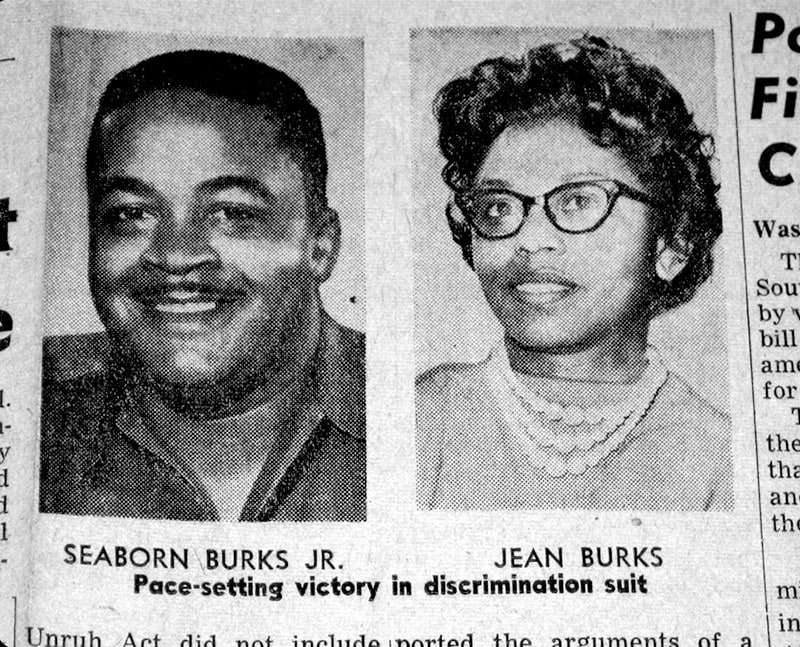 In 1959, a San Francisco developer refused to sell Seaborn and Jean Burks a home because they were African Americans. The couple sued under the new California Civil Rights Act, which outlawed racial discrimination in all business establishments. Although the California Supreme Court ruled in their favor, housing discrimination remained widespread. In 1964, voters passed an initiative amending the California Constitution to authorize racial bias in home sales. The U.S. Supreme Court struck that down in 1967.

For decades, developers and white property owners organized to keep African Americans like Seaborn and Jean Burks from integrating neighborhoods. Courtesy California Historical Society.
Who is Called a Criminal?
Many people have been arrested for who they are, not what they've done.
We expect that people will be arrested because they break laws that endanger others – but many have been arrested just for fighting for their rights. Members of the IWW – Industrial Workers of the World – filled Fresno and San Diego jails for trying to organize a union. Author Upton Sinclair was arrested in 1923 for reading the U.S. Constitution in front of the San Pedro docks in support of IWW strikers. Striking dockworkers in San Francisco were met with bullets, beatings, and mass arrests in 1934. During the 1960s and 1970s, police arrested United Farm Workers organizers en masse when they tried to organize grape pickers in the fields.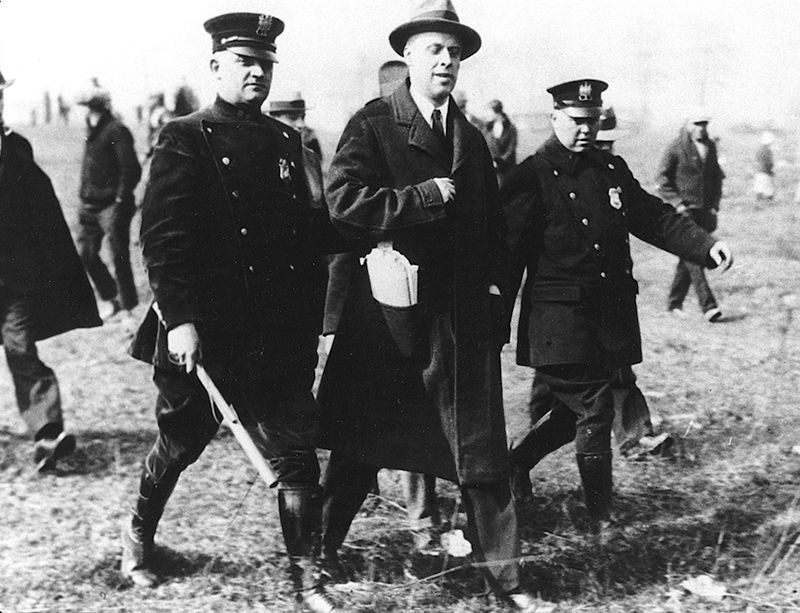 During the 1990s' War on Drugs, government guidelines led to racial profiling by police. One of these discriminatory practices is known as DWB, or Driving While Black or Brown. This has led to a disproportionate number of African American and Latino drivers being stopped and searched on California highways, simply because of their skin color.
Today, the Black Lives Matter movement is a leader in the fight against racial profiling, police brutality, and racial inequality. A political and social movement founded by three Black women, Black Lives Matter took shape online in 2013 in response to the acquittal of George Zimmerman in the fatal shooting of Trayvon Martin, a Black teenager. Black Lives Matter demonstrations, as well as other racial justice protests, have taken place across California to protest continued police violence against Black men and women.
Cut out that Constitution stuff.

Police officer arresting Upton Sinclair, 1923
Unpopular ideas are often labeled as subversive.
Yetta Stromberg, a 19-year-old counselor at a camp for workers' children in the San Bernardino mountains, was arrested in a dawn raid in 1929 by the local sheriff and a band of deputies for the crime of raising a red flag. She was sentenced to 10 years in prison. Stromberg won her appeal when the U.S. Supreme Court ruled that symbolic speech – like a red flag — is protected by the First Amendment.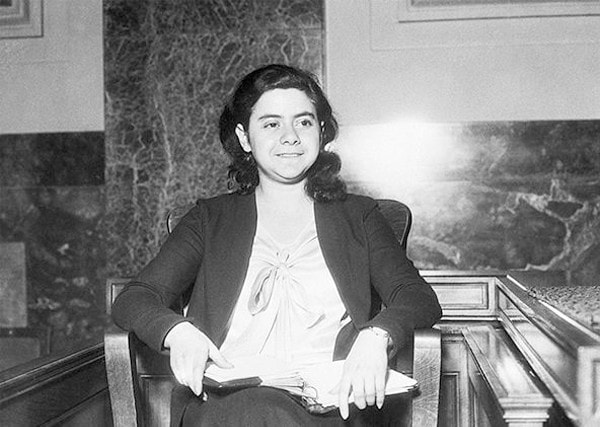 During the Cold War, government witch hunts of "Communist sympathizers" led to loyalty oaths and blacklisting. Thousands of teachers and government workers were wrongly accused of disloyalty and lost their jobs. The Hollywood 10 – writers and directors who refused to answer questions before the House Un-American Activities Committee about their political affiliations — were sent to federal prison. Although some members of the Hollywood 10 continued to write scripts under pseudonyms, many were never again employed by movie studios.
You are the Un-Americans and you ought to be ashamed of yourselves.

Actor, athlete, lawyer Paul Robeson before the House Un-American Activities Committee
Who Can Practice their Religion?
Minority religions have been suppressed.
Fifth-grader Charlotte Gabrielli was suspended from her Sacramento elementary school in 1936 for refusing to recite the Pledge of Allegiance. She was obeying her Jehovah's Witness parents, who believed that saluting the flag was idolatry. Prejudice against Jehovah's Witnesses led to the suspension and expulsion of many students around the state, and vigilantes attacked their meetings. But in 1943, the U.S. Supreme Court ruled that students could not be forced to recite the Pledge if it violated their religious beliefs.
If there is any fixed star in our constellation it is that no official, high or petty, can …force citizens to confess by words or act their faith therein.

United States Supreme Court, 1943
After the U.S. Forest Service proposed building a logging road through land sacred to the tribes of the Klamath River area, Yurok, Tolowa, and Karuk leaders protested. But in 1988, the U.S. Supreme Court rejected their argument that the road would violate their religious freedom rights. Congress passed an environmental law in 1990 barring the logging road. The sacred land was rescued for the moment, though Klamath area tribes continue to fight against logging in the area.
Whose Voices are Censored?
The pen and the paintbrush can be mightier than the sword.
Banning books is so utterly hopeless and futile. Ideas don't die because a book is forbidden reading.

Gretchen Knief, Kern County librarian, 1939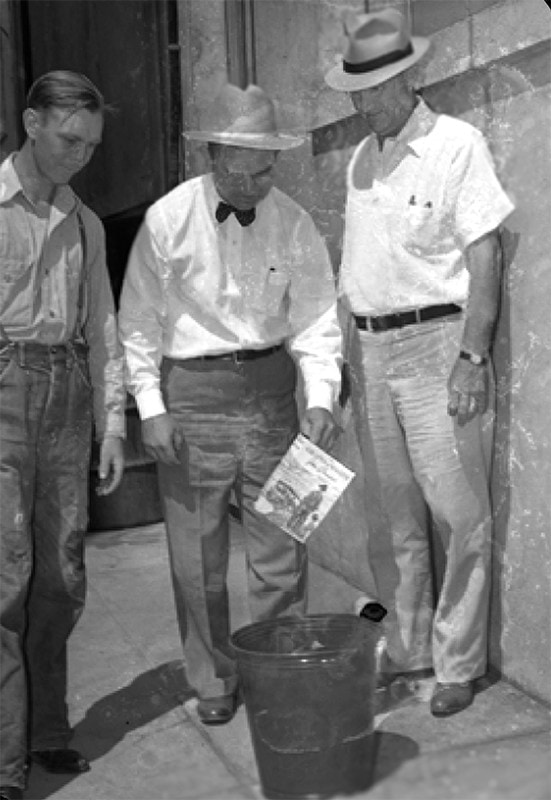 The Grapes of Wrath, John Steinbeck's poignant novel about the plight of Dust Bowl refugees who sought work in California's rich San Joaquin Valley during the Depression, became an instant best-seller in 1939 – but it was banned by the Kern County Board of Supervisors. They instructed the chief librarian not to distribute the book, even though 600 readers had put it on reserve.
The head of the Associated Farmers publicly burned a copy of Steinbeck's The Grapes of Wrath. Courtesy Kern County Museum.
---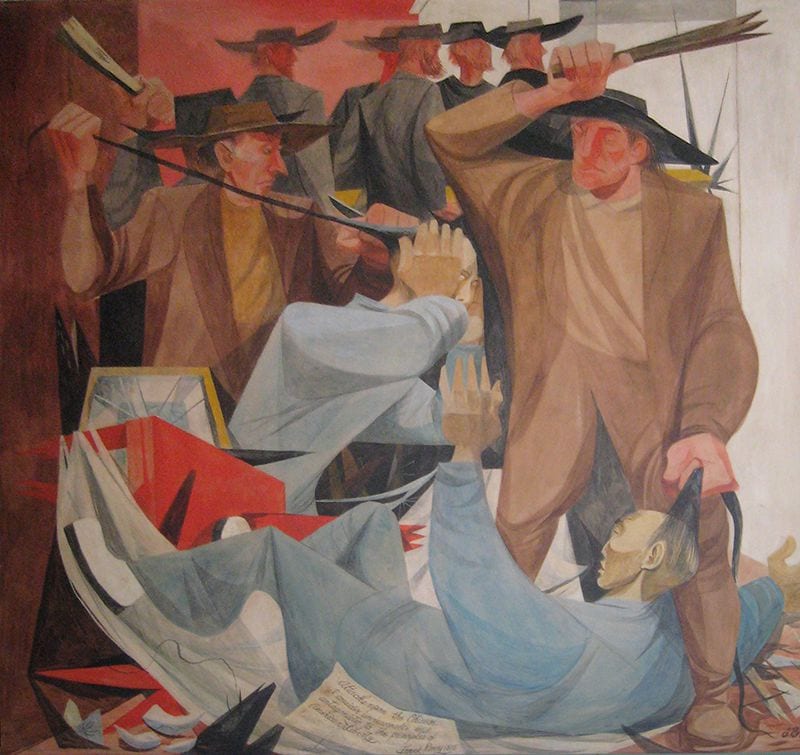 Anton Refregier's colorful murals on the walls of San Francisco's Rincon Annex post office depict the history of California. But because he painted Indians at the missions, anti-Chinese riots, labor strikes and President Franklin Roosevelt, the murals were targeted by a Congressional inquisition led by Vice President Richard Nixon in 1953 and almost destroyed. Thanks to the support of prominent artists and arts organizations, the murals survived and today are a protected historic site.
Anton Refregier's San Francisco Rincon Annex Post Office murals, like this one, were almost destroyed because some politicians did not like how he depicted California history. Photo by Elaine Elinson.
Who Can Get a Good Education?
California has a checkered history of segregating students.
Under California law, African American, Native American, and Asian American students have been forced to attend segregated schools. Mexican American students, though not targeted by law, were shunted into segregated, inferior schools. In 1945, Gonzalo and Felicitas Mendez filed a successful federal lawsuit on behalf of their children and 5,000 Latino students in Orange County. Soon after their victory, the state repealed all school segregation laws.
Since 1975, federal law has required integration of students with disabilities whenever possible. But California children with disabilities continued to be segregated. For 5 years, the family of Rachel Holland fought the Sacramento School District, which placed Rachel in special education classes because of her developmental disabilities. In 1994, a federal court ruled in Rachel's favor, stating that children with disabilities have a right to be educated in mainstream classes with supplementary aides and services.
We didn't come in as spirited zealots—we 'backed in' by virtue of trying to get our daughter in a regular elementary class full-time.

Robert Holland
Whose Rights Are Voted On?
Can a majority take away your rights?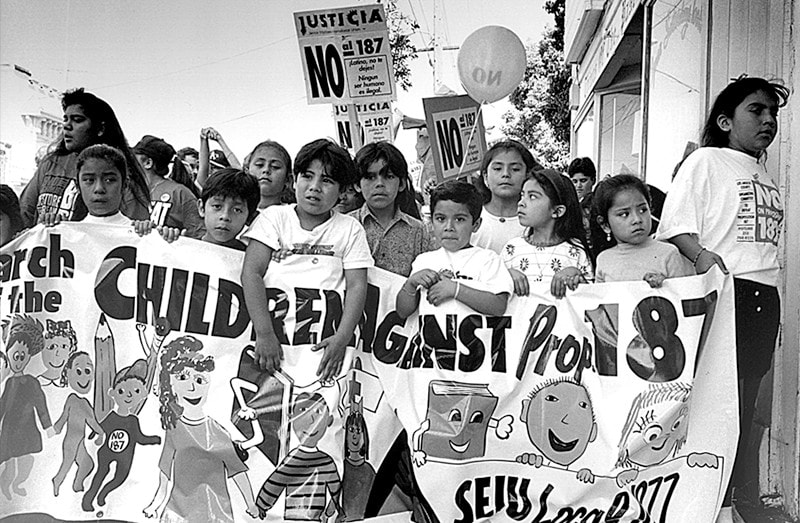 Governor Hiram Johnson began the initiative process in 1911 to give ordinary Californians a stronger political voice; he was trying to get around the state Legislature, which was controlled by big railroads. Early initiatives granted women the right to vote, set a minimum wage, and limited the work day.
But many ballot initiatives restricted people's rights. Majorities voted to bar Japanese immigrant farmers from owning land, to ban fair housing laws, and to eliminate bilingual education and affirmative action. In 1994, Proposition 187, which compelled public workers to question immigrants about their legal status, passed by a two-thirds majority. A federal court prevented its implementation.
In 2008, 18,000 lesbian and gay couples wed following a court decision that the law banning same-gender marriages violated the California state constitution's guarantee of privacy and personal freedom. Those nuptials ended when voters passed Proposition 8 by 52-48% amending the state constitution to take away the right of gay couples to marry just five months later. Eventually, Proposition 8 was declared invalid by the U.S. Supreme Court, and gay couples regained the right to marry on June 28, 2013.
Walk the streets with us into history. Get off the sidewalk. Work for justice.

Dolores Huerta, Co-founder and leader of the United Farm Workers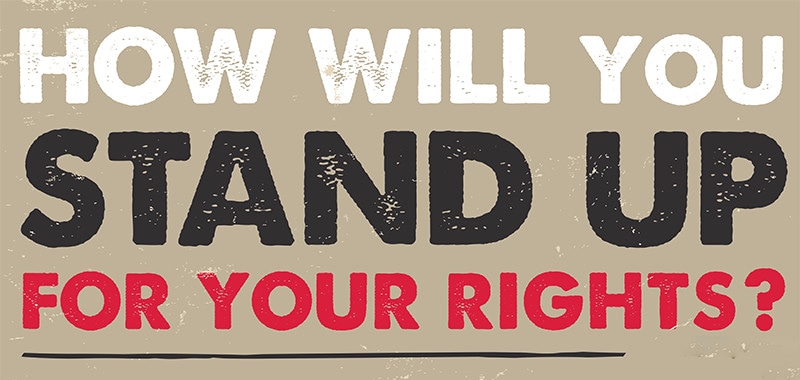 All of the people in this exhibit helped shape and protect the rights and liberties we all share today – in the classroom, in the courtroom, and on the streets. Some are well known, but many are ordinary people capable of doing extraordinary things to fight for their rights.
Are there civil liberties at risk in your community today? What are they? What can you do to make sure that the promises of the Constitution and the Bill of Rights are fulfilled for generations to come? Change is made by everyday people. Stand up for your rights, and the rights of others, and let your voice be heard.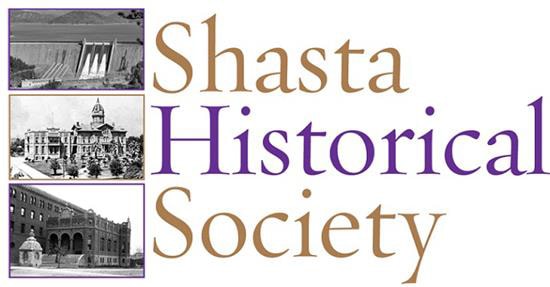 Thank you for viewing Wherever There's a Fight as hosted by the Shasta Historical Society.
The Shasta Historical Society's mission is to actively preserve, promote, and bring to life the history of Shasta County.
A group of prominent Shasta County citizens formed the Shasta Historical Society on January 18, 1930 for the original purpose of collecting interviews of then-living area pioneers, Over the years the organization's mission evolved to better serve the community of Shasta County by actively working to promote and communicate local history. Today, the Shasta Historical Society serves as the largest and most prestigious non-university center for historical research in California north of Sacramento. The library and archives host more than 3, 000 researchers, students, and teachers each year. In addition to maintaining the research library, the Shasta Historical Society is active in the local community, hosting various free events throughout the year, including a monthly lecture and tour series. In the last year, due to increased membership, local press and public participation, the monthly lectures were moved to a much larger facility.
To find out more about the museum, visit their website today.
Curated by Elaine Elinson and Stan Yog, and translated into Spanish by Florencia Milito. Learn more about the book that inspired this exhibit, Wherever There's a Fight: How Runaway Slaves, Suffragists, Immigrants, Strikers, and Poets Shaped Civil Liberties in California [external link], at any bookseller near you. Exhibition development team: Joan Jasper, Sara Davis, Amanda Bateman, Lexie Smith Kliebe, Adrienne McGraw. Further assistance provided by the staff of California Humanities. With additional thanks to William Deverell, Malcolm Margolin and Catrina Roallos.