Presented by Menlo Park Library
January 4, 2021 – February 15, 2021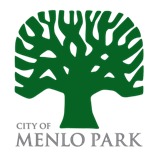 Stitching California originated at the Grace Hudson Museum in Ukiah, CA in partnership with Studio Art Quilt Associates (SAQA) and Exhibit Envoy. The online exhibition is based upon the physical exhibition touring through Exhibit Envoy. All photographs © the artist, except where noted.
California is known as the Golden State, but what makes it so?
This is the question that was asked of Studio Art Quilt Associates (SAQA) members in Northern California and Northern Nevada. We were curious to see what was important to our member artists, and how they would use diverse materials and techniques to express their messages. The only guideline from SAQA was that "the art quilt be a creative visual work that is layered and stitched or that references this form of stitched layering." As you will see through the 42 artworks in this exhibit, the response was rich and varied.
We offer our sincere thanks to all the artists for submitting beautiful, creative artwork for the show. Without you, there would be no Stitching California.
And to you, we appreciate your interest in art quilting, and hope that through this exhibit, you find your own answer to what it means to live in California.
– Holly Brackmann & Jennifer Landau, SAQA
---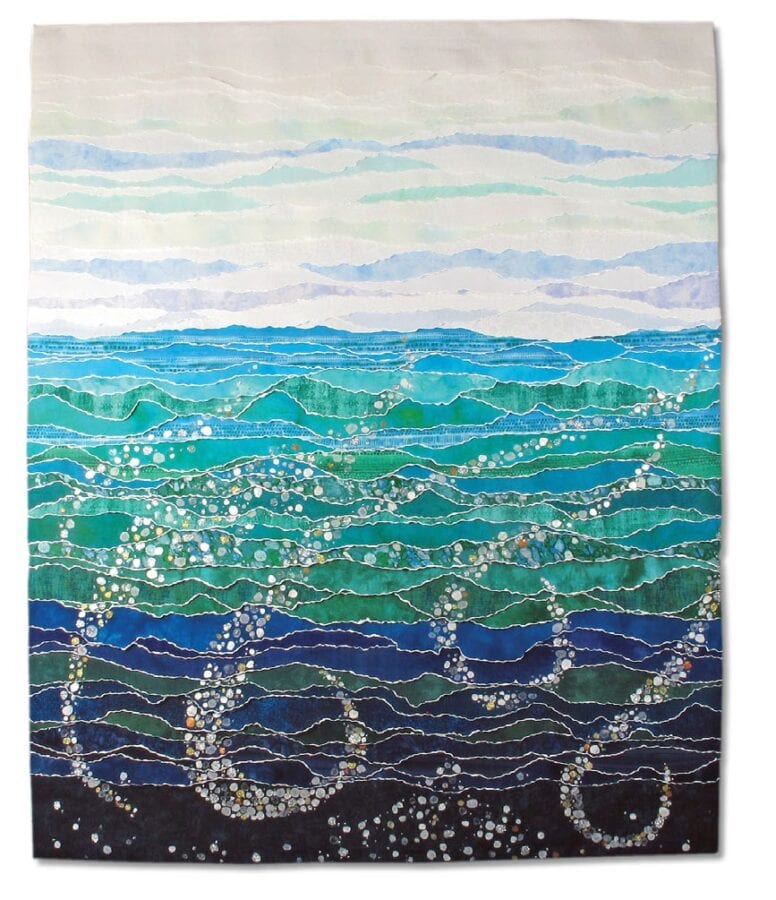 Navigating the Online Exhibit

As you peruse this exhibit, you'll be able to learn more about each quilt through the words of the artist who made it. In their statements, the artists share insights about theirs inspirations and practices, as well as their views on California itself. To read each artist statement, simply click or tap on the image of their artwork to learn more.
Try it with the image here – "Eureka" by Eileen Searcy, 2018 – to get started!
What Is An Art Quilt?
Studio Art Quilt Associates (SAQA) has defined an art quilt as "a creative visual work that is layered and stitched or that references this form of stitched layered structure." In the short video below, Deborah Boschert, President of SAQA, speaks with Vivika Denegre, the Editor of Quilting Arts Magazine, about what makes an art quilt, an art quilt.
Forty-two art quilts were selected for this exhibition by jurors Karen Holmes of the Grace Hudson Museum (Ukiah, CA) and Katie Pasquini Masopust. Below, the jurors share how and why they chose the artworks on view in this exhibit.
---
Jurors' Statement from Karen Holmes & Katie Pasquini Masopust
"We are honored to have had the opportunity to jury this exciting collection of art quilts that interpret the complexities of the Golden State – a place that both of us have called home more or less since birth. Familiar with California, and with an eye for composition and innovative techniques, we looked for pieces that told a story and would make a compelling exhibit.
As we went through the submissions, we were reminded of the wonders–and woes–of our multi-faceted state. Tribute was paid to striking iconic places we ourselves had enjoyed, and to the beautiful native flora of California. But we also saw distinct, darker themes emerge: the impacts of climate change on our state (drought, floods, and fire); the lasting detrimental effects of the Gold Rush; and the persecutions faced by California's Indigenous peoples, Hispanic population, and Japanese Americans interned during World War II. There were references to industry, economy, geography, and topography, to despair and hope.
In short, a well-rounded picture of complex California formed, and it was up to us to choose what best conveyed that picture.
Unfortunately, there were many exceptional pieces that had to be left out, as we were tasked with choosing only one quilt from each submitting artist and were limited by the number of quilts that could fit in a traveling show. Reading the Artist's Statements that accompanied each piece helped us understand what each quilter was trying to convey, and this often added a depth and richness to the artwork that aided our decisions. In the end, we strived for a balanced show of beauty, originality, thought-provoking content, realistic and abstract images, and quality workmanship.
Our thanks to all at SAQA and Exhibit Envoy. We enjoyed working with them and with each other, and above all appreciate the creativity with which the artists approached the exhibit's theme. We hope you enjoy the resulting show."
~ Karen Holmes & Katie Pasquini Masopust
Professionally, Katie began as a painter who dabbled in traditional quilt making, and is now an award-winning fiber artist and successful teacher and lecturer. She is also a prolific author on creative quilting, and is the executive director of Colorado's Alegre Retreat at the Gateway Canyons Resort. Karen's background is in art history, graphic design, and archival studies. She is a curator at the Grace Hudson Museum in Ukiah, Mendocino County, where she has created and designed numerous exhibits related to the art and artists of the state.
---
Listen While You Look
People have been making sense of the Golden State's people and land through words, art, and music for centuries. While you view the California-related artworks in this exhibition, take a listen to a handful of classic rock and folk songs about California in this audio-only playlist!
California has an astonishing variety of landscapes and climates, from the lush woodlands of Northern California, through the great Central Valley and lofty mountains of the Sierras, to the scorching deserts of Southern California. Around six thousand species of plants, conifers and ferns grow in this extraordinarily diverse topography, and of these one-third are endemic – found nowhere else on earth.
A Beloved Icon: The California Poppy
Of special note for the artists in this exhibition is the state flower, the California Poppy. Also known as a golden poppy, California sunlight, or cup of gold, this flower can be found up and down the West Coast. Three artists focused on the this flower in their artwork, using different styles, colors, and perspectives to capture this quintessential symbol of California.
California's Natural Beauty
The Golden State's rich natural beauty inspired many of the textile artists in Stitching California. Below, you'll recognize soaring redwoods, the interplay of waterways and meadows, and green, rolling hills.
California lies at the heart of the Pacific Rim, creating a cultural tapestry that interweaves Latino, Anglo, Asian, Pacific Island, and African American traditions. And yet, its history includes the lawful and systematic decimation of the State's indigenous peoples; the exclusion of Chinese emigrants; the internment of American citizens of Japanese descent; and both the welcome and abuse of migrants from the Dust Bowl, the sharecropping South, and from across its southern borders.
Through their works below, artists in Stitching California address these issues, both by celebrating the diversity that makes California so remarkable, and by calling out past and continuing injustices.
California's iconic architecture has been the focus of countless postcards, movies, paintings, and songs. Here, five textile artists lent their unique eye to the structures and style of the Golden State, depicting the soaring Golden Gate Bridge, the gold-mining ghost town of Bodie, unique urban paving, and San Francisco's beloved Painted Ladies.
Challenges Facing Californians
California is both a land of contradictions and dreams. While it has been a social and political leader in many an arena, from mitigating climate change to advocating for the rights of marginalized communities, the Golden State remains a large and complicated creature where homelessness, want, and xenophobia are all too prevalent. Below, textile artists reflect on the physical and socioeconomic challenges facing our state.
Climate Change
---
Who Can Live Here?
The quilts in this exhibition are rich with details. From the selection of fabric to the stitching, each art quilt tells an additional story through the choices made by the artist. Take a closer look at portions of the four of the quilts in the exhibition, below, as well as the full quilts you've already seen in the exhibit.
Some questions you may want to consider include:
What do you see that you didn't notice the first time around?
Does examining the chosen styles, colors, fabrics, and stitching change your initial thoughts on the piece?
If you were the artist, what choices would you have made to express the same thoughts?
To start, take a moment to consider the questions above. Next, click on the first close-up image at left. Then, click on the right-hand arrow to re-read the full artist statement about that quilt, and to see the entire quilt at once.
Color It In: "Pomo Basketry Adaptations" by Holly Brackmann and "Painted Ladies" by Jennifer Landau
Create It Yourself: Fiber Art Tutorial and Paper Craft Activity
Get creative with textiles and paper! Try out an easy tear-and-paste paper craft activity using materials you can find around your home. Or, pair fabric with various two-dimensional objects like stamps, book pages, and lace to create an abstract mixed-media landscape using a tutorial by Denise Oyama Miller, whose work is featured in this exhibit.
Piece It Together: "Fault Lines" by The Pixeladies
Mark your calendar for these exciting virtual events, presented by Menlo Park Library in tandem with this online exhibition.
California: a History of Activism in Practice
Tuesday, Jan. 5, 4-5 p.m.
This virtual tour of the California Museum in Sacramento explores the Unity Center, an exhibit focused on California's rich history of civic engagement and forms of activism.

Author Seema Yasmin: Muslim Women Are Everything
Thursday, Jan. 7, 6:30-7:30 p.m.
Tired of seeing Muslim women portrayed as weak, sheltered, and limited, Seema Yasmin—a medical doctor, professor, poet, and Emmy-award winning journalist who was a finalist for the Pulitzer—profiled dozens of stereotype-shattering women.

Wherever There's a Fight: How Runaway Slaves, Suffragists, Immigrants, Strikers, and Poets Shaped Civil Liberties in California
Tuesday, Jan. 12, 5:30-6:30 p.m.
Authors Elaine Elinson and Stan Yogi will share historical anecdotes from their book, the first-ever account of the ongoing struggles to develop and protect civil rights in California.

The California Art Quilt: From the Summer of Love to the New Millennium
Tuesday, Jan. 19, 4-5 p.m.
Learn about the cultural forces that led to the emergence of art quilts, and the California artists who were among the first to embrace the medium as their primary means of expression.

Becoming Ms. Burton: From Prison to Recovery to Leading the Fight for Incarcerated Women
Monday, Jan. 25, 5-6 p.m.
Join us as we meet Susan Burton. After family tragedy led to addiction, Burton spent years in incarceration. Following treatment, she dedicated her life to transforming lives, and is now a nationally-celebrated advocate.

Francisco Jiménez: The Immigrant Experience, a Personal Story
Thursday, Feb. 11, 6-7 p.m.
The internationally-acclaimed author's four-book series—The Circuit, Breaking Through, Reaching Out, Taking Hold—are among the American Library Association Booklist's 50 Best Young Adult Books of All Time. Dr. Jiménez will talk about his life and career.
What does California mean to you?
In Stitching California, you've explored the diversity, illusions, realities, and hopes that define — or, at least, help us better understand — the richness and contradictions of the Golden State. But, what does California mean to you? If you were creating an artwork about California, what would you include?
Please note: after you post your comment, the webpage will automatically refresh and then return you to this section of the exhibit.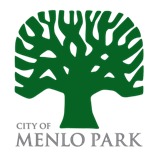 Thank you to Menlo Park Library for hosting this exhibit.
Menlo Park Main Library and Belle Haven Branch Library are operated by the City of Menlo Park, California.
To find out more about the library, visit menlopark.org/library today.
Special thanks to the originating institution of "Stitching California," the Grace Hudson Museum and Sun House in Ukiah, CA. We particularly thank Director David Burton, and Curators Karen Holmes and Sherrie Smith Ferri, as they were instrumental in shaping the scope of Stitching California. The jurors, Katie Pasquini Masopust and Karen Holmes, have chosen art quilts that reflect their understanding of the theme, and how it relates to historic, as well as contemporary California. Thank you for your careful considerations of what to include in the exhibit. We also extend our appreciation to the Exhibition Committee for SAQA Northern California/Northern Nevada, with special thanks to Denise Oyama Miller, Sonja Campbell, Jean Renli Jurgenson, and our catalog design team, Pat and Bob Porter, plus proof reader Sue Siefkin. ~ Holly Brackmann & Jennifer Landau of SAQA